</br />

CEPM and ProjectTeam® have collaborated for PM excellence for EPC industry in India which is applicable across all EPC projects.
On December 11th, 2018 during the 26th Global Symposium on Project Management in New Delhi, CEPM  (India) signed a Memorandum of Understanding titled "Driving forward project management excellence for the EPC industry in India" with  ProjectTeam® (Germany). 
ProjectTeam® is leading an industrial initiative, the innovation project "EPC 4.0" that was launched by leading consultancies and former executives in Germany in early 2018. Objective of this project is to develop practical guidelines for EPC companies as well as for investors, owners and operators of industrial plants how to approach innovative business models for industrial projects and plant operations and to describe concrete measures that have the potential to unleash the hidden potentials in our industry and to save up to 50% of CAPEX.
The MoU was signed  by Frank-Peter Ritsche of ProjectTeam and Ms. Ruchira Jain, MD, CEPM in the presence of Mr.TKA Nair, Advisor to former Prime Minister of India, and Member of the Board, JICA International, Japan and endorsed by Adesh Jain, Chairman of the International Institute of Projects and Program Management (i2P2M).
With this Memorandum CEPM and ProjectTeam® have established the framework to bring this initiative to India, to support the industry in India in their transformation process and to open up the access to the innovation leaders in this field within the Global Experts Network of ProjectTeam®.
The Innovation Project "EPC 4.0"
Innovation project "EPC 4.0" is a joint study of ProjectTeam®, TIBA, maexpartner, m8International and d1g1tal AGENDA. The basic concept of this initiative is a business transformation model that works in a balanced approach in the dimensions of digital transformation, organizational and process related changes, and behavioral changes.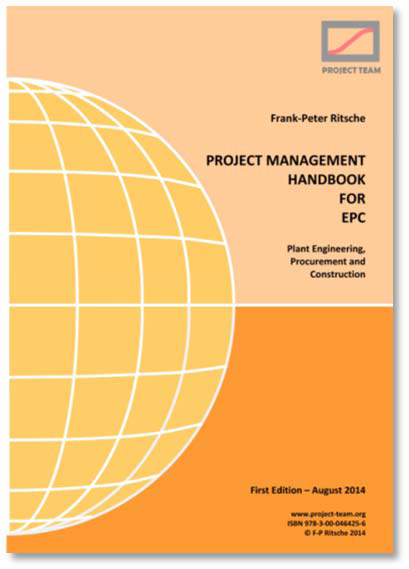 It is the most comprehensive Project Management Handbook for EPC Plant Engineering – Procurement – Construction for project managers.
Digital transformation is considered the basis of this model, as digitalization is the factor that is driving the business transformation and is dictating the speed of this process. This includes the full exploration of the opportunities of digitalization, such as:
Building Information Modelling (BIM), as already practiced e.g. in infrastructure projects as a platform to create transparency and consistency across the involved parties in a capital project.

Automation of collaboration systems in project management, engineering or construction management, where coordination and interface management processes are following algorithms that can be computed with significantly less interaction of coordination and management manpower.

Use of "big data" analysis, e.g. to benchmark project planning parameters against data from other projects, or operations parameters against data from other plants, with the objective to identify areas of under performance against typical industry standards.

Consequent application of existing state‐of‐the‐art, such as virtual reality in design reviews in globally distributed teams, laser scanning technology in brownfield projects, or tag and tack systems to manage material or progress on site.

Organizational changes

and introduction of new innovative processes and methods are considered the pillars of this model. There are four major areas identified that need to be addressed:

Collaborate by Partnership. This includes a transformation to new contractual models that enforce partnership between the parties in a project, such as alliance contracts or lean IPD (Integrated Project Delivery).

Flatten the Supply Chain. This will bring suppliers closer to the end‐user, reduce transaction costs and also reduce capital investment costs of the investor e.g. by switching to pay‐per‐use models for equipment operated and maintained by their suppliers.

Build flexible organizations by transforming hierarchical organizations to network organizations, where resource needs can be more easily scaled to the up‐ and downturns of order cycles.

Standardization is key for easy onboarding of external resources or partners. CEPM and ProjectTeam® are actively supporting standardization of processes through the "Project Management Handbook for EPC" and standardization in project management qualifications through the "EPCP® ‐ EPC Professional" certification.

Focus on core competencies. Investments in innovation and developments shall be driven in the fields where the companies have their strength, to bring technology companies to become technology leaders, to bring construction companies to become leaders in Risks in capital projects shall be taken by those who have the best competencies to manage these, and risks outside the core competencies shall be transferred to the more competent party.

The human factor is considered the roof of this model, and most transformation factors fail because the human factor is not adequately addressed. Working towards behavioral change is required, as partnership models require transparency and trust that is not inherent in traditional EPC Lump‐Sum‐ Turn‐Key relationships. Working in networks requires employees taking responsibility, but also executives to give decision power away to their employees.

Innovation project EPC 4.0 is still ongoing, but until the full report will be published in April 2019, CEPM as exclusive partner of the ProjectTeam® Global Experts Network in India, and endorsed by i2P2M, will be ready to provide the support to their clients in India to implement these concepts, tailored to the individual situations that deserve individual solutions.

ProjectTeam® is driving forward the standardization of methods in project management, engineering, procurement and construction by establishing the "Project Management Handbook for EPC" as a global guideline and the most comprehensive body of knowledge in this field.