CEPM enables companies to achieve excellence through "Management by Projects" and by balancing Hard and Soft sides of project management. CEPM's involvement in mentoring, coaching, training, consulting and research is well recognised worldwide. We provide sustainable relationships.
CEPM provides consultancy services to evolve Strategic Plans, Assess Organization's PM maturity through our 6 Level PM maturity model (OPM2), MIS, Project Management Systems, Total Quality Management, hand holding to implement Technology Solutions and establishing a PMO.
We have done consultancy assignments for leading Indian companies such as Bharat Heavy Electricals (BHEL) which is the largest engineering and manufacturing company in India, Indian Oil Corporation (IOC), India's only Fortune 500 company, Sterilite Industries, JSW, Robert Bosch, SG Software, Hindalco  etc. We were also awarded a consultancy assignment for Ministry of Statistics and Programme Implementation and done training cum consultancy for NTRO and NTPC-BHEL project in Patratu.
For BHEL we provided consultancy services to bring greater awareness on the imperatives of project management in the company and to provide strategic inputs and recommendations to enhance BHEL's Project Management Maturity level using CEPM's 6 level Project Management maturity Model. Over 900 senior executives of BHEL across their different divisions were covered in this assignment.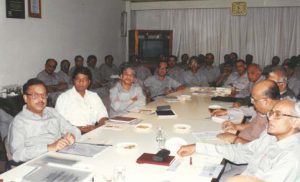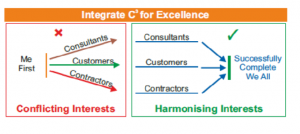 In IOC, CEPM's assignment involved propogating PM concepts throughout their refineries specially in view of the DHDS projects. CEPM's unique approach of Integrating Customer, Contractors and Consultants (C3) was highly appreciated by all the concerned parties involved in the DHDS projects.
CEPM has also provided consultancy in IOC to evolve guidelines for integrating PM processes within their company with the 'A Guide to the Project Management Body of Knowledge' covering Project Scope, Project Time, Project Cost and Project Quality Management.
Training – Certification – Consultation : This is a new feature started by CEPM in 2017 that goes much beyond just providing training.
Aim is to first enhance the PM skills in the organization through Training followed by Certification and then Consultancy to first discuss problem areas in work place and how to make improvements in the work place based on new learnings  followed by implementation of some prioritized recommendations.
Some companies where we have conducted in-company classroom training are:
Adani, Ashok Leyland, Areva, Afcons, BG India, BGR Energy, BPTP, EIL, DRDO, Danieli Corus, EdCIL, Fernas Construction, Citec India, Coal India, Gail, Infineon JCB, JSPL, HPCL, Ircon, Indian Oil, L&T, L&T Infotech, NTPC, New Holland, Neepco, ONGC, Odisha Hydro Power, Punj Lloyd, Power Grid, Reliance Energy, Reliance Infrastructure, RVNL, Siemens, Tecnimont ICB, Tehri Hydro, Thermax, Nuclear Power Corp., National Payments Corp. PCILNyara Energy, HFCL, NTRO, SAIL, SJVNL. Univ of Chicago, India, Wipro etc.