About Training
Today, project management is a key discipline to enhance one's career growth across all sectors.
CEPM has been providing top-rated project management related training for close to two decades. We have conducted over 500 workshops / seminars  in India and outside India and have trained 30,000+ persons on project management. We provide both traditional face-to-face classroom training as well as internet based online training through our training site www.pmguruonline.com.
We have also provided training in association with leading companies / associations such as Microsoft, CBIP, SCOPE, IICA, PHD Chamber of Commerce etc as well as academic institutions such as IGNOU, IMT Ghaziabad, IMI, IIM Calcutta, University of Chicago center in Delhi etc.
CEPM is the oldest Global Registered Education Provider (R.E.P.) of PMI® in India.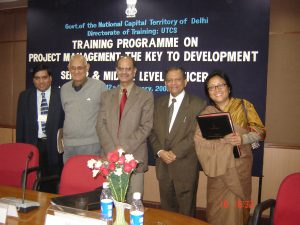 Classroom training
This covers both in-company training workshops where we conduct training for the employees of a company as well as public training workshops where any person can register.
For in-company training workshops the venue is selected by the concerned company which can be any where across India, Asia and Middle East. Our Trainers travel to the selected venue. We charge a faculty fee + travel and stay expenses on actuals. All our Trainers are top-rated with 20+ years of professional experience in managing projects.
Companies where we have conducted in-company training includes alrge number of public and private sector companies.
Public workshops – we regularly organize public workshops across India independently as well as in association with associations / companies such as Microsoft, CBIP, IICA, Petrotech, Petrofed etc.
 e-learning

Since 2003 we also offer internet based online training through our training site www.pmguruonline.com. This site is used worldwide. 
Training is available 24 x 7…….from any where…….any time…… at users pace pace and convenience
Courses offered
Totality of Project Management (TPM) which also prepares persons for the Certificate In Project Management (CIPM) credential
Totality of Project Management (TPM) leading to the Introductory Certificate In Project Management (InroCIPM)
Totality of Project Management (TPM) leading to the Project Management Essentials (crtPME) credential
Earned Value Management System leading to the (CrtEVM) credential
Agile Project Management (CrtAgPM)
Advanced Risk Management
Critical Chain Project Management
MS Project Software
PMP® preparation
CAPM® preparation
Many online courses to earn PDUs for PMP recertification
Training – Certification – Consultation
CEPM goes much beyond just providing training. Aim is to first enhance the PM skills in the organization through Training followed by Certification and then provide Consultancy to first discuss problem areas in own workplace and discuss how to make improvements in the workplace based on new learnings followed by implementation of some prioritized recommendations.
Some companies where we have conducted in-company classroom training are:
Adani, Ashok Leyland, Areva, Afcons, BG India, BGR Energy, BPTP, EIL, DRDO, Danieli Corus, EdCIL, Fernas Construction, Citec India, Coal India, Gail, Infineon, Indian Ports Association, IRCON, Japan International Cooperation Agency, JCB, JSPL, HPCL, HFCL, Ircon, Indian Oil, L&T, L&T Infotech, Maruti Suzuki, Navitasys Power, NTPC, New Holland, Neepco, ONGC, Odisha Hydro Power, Punj Lloyd, Power Grid, Reliance Energy, Reliance Infrastructure, RVNL, Siemens, Tecnimont ICB, Tehri Hydro, Thermax, Maruti Suzuki, NTRO, Navitasys Power, Nuclear Power Corp., National Payments Corp., Nyara Energy, National Productivity Council, SAIL, SJVNL, Univ of Chicago, India, Wipro etc.